Phone Number:
01509 856041
Our Location:
The Health Centre, Gotham Rd, East Leake, Loughborough LE12 6JG
Welcome to Brookview Dental Care
The practice was established in the East Leake Health Centre in 1975 and has gained a reputation for providing quality dental care in friendly and relaxed surroundings.
The main aim of the practice is to help you achieve and maintain a healthy mouth and attractive smile. We can offer you a wide range of treatments, preventative care and advice to enable you to achieve these goals
Contact Us
Learn More
Minimally Invasive Dentistry
Advanced restorative techniques are utilised to preserve as much of your natural teeth as possible. Thereafter, if deemed necessary, more complex treatments can be used.
Read more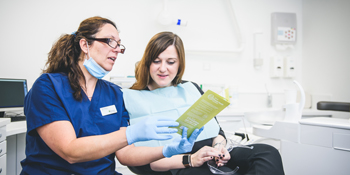 Oral Health Promotion & Prevention
Brookview Dental Care is an active member of the Oral Health Promotion network group of practices in Nottingham.
Read more
0% Interest Free - Spread the cost of your treatment.
Latest News
A monthly payment calculator is now available on the website. It can be accessed from the homepage or the Prices and Finance…
Read more
Testimonials
I am writing this excellent review as this Dentist truly deserves credit and accolade for it's excellent service from the moment you enter through to the reception where you are met with friendly staff.

The Dentist who I have travelled far and wide to see with my children over a number of years has to be the most informative and caring dentist around.
My children don't have any fears of their 6 monthly Dental visits due to from an early age being made to feel safe and treatment that is always pain free due to the expertise of the Dentist.

I would recommend this Dentist to anyone, especially if they have had a bad experience in the past and need somewhere to rebuild their confidence and trust.

This is definitely where I will be going for years to come I hope after reading this you will too!

Lisa Hancock

In all honesty I couldn't imagine a better dentist.
There was a time when I used to dread going the dentists. Thanks to the dentist and the rest of the team at Brookview Dentistry this is not the case anymore.

I first went to see the dentist with a cracked tooth which they repaired very nicely. Then I went to see the dentist as I was suffering from migraines quite a lot. The dentist correctly diagnosed that I was suffering from grinding of the jaw and made me a bespoke splint which has completely resolved the issue as well as stopping any further grinding related tooth issues.

I have always been so impressed with the level of service and care. So much I've fully recommended the dentist to friends and family looking for a new dentist.

In all honesty I couldn't imagine a better dentist.

Chris Manning

Very friendly, efficient, gently – Caring. All staff at this practice are lovely.

Lovely, friendly practice and great standard of work by all staff.

Extremely friendly service. Dentist makes you feel at ease.

We recently registered with this dentist and I'm so pleased we did! All the staff are friendly and really helpful, we had appointments booked for all 5 of us within 2 weeks of joining, the dentist greeted us in reception as we arrived and straight through for the consultation. They even gave my 4 year old bubbles for being good! Highly recommended!
Brookview Dental Care. All rights reserved. Website by Cosmetic Digital